Universal Pathogen DNA / RNA Extraction Kit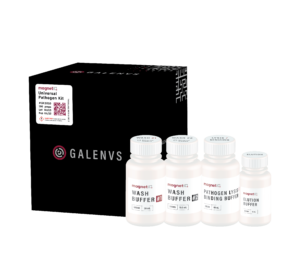 The magnetiQ Pathogen Extraction Kit is designed to simplify the extraction of pathogenic DNA and RNA from a variety of sample types. Using buffers and magnetic beads that were optimized to capture DNA and RNA, users can obtain a purified product in 15 minutes.
One-step magnetic bead-based extraction and purification of pathogenic DNA and RNA under 15 minutes from:
Swab solutions (viral transport medium – VTM, and inactivation transport medium – ITM)
Serum/plasma
Blood and Exudate
Saliva samples
Cell-free body fluids
Complex matrices such as sputum or stool
Cerebrospinal fluid (CSF)
The Pathogen Extraction Kit provides a safe, simple and reproducible method for obtaining purified nucleic acid products. These can be used for downstream applications such as PCR, RT-PCR and NGS.

  Universal Pathogen DNA / RNA Extraction Kit
The magnetiQ Pathogen Extraction kit enables researchers to obtain a pure, contaminant free product. Its chemistry is optimized to lyse cells and wash away protein, lipid, salt and any other contaminants to yield a high purity sample. Our lysis buffer disrupts the components of the matrix enabling our magnetic beads to specifically target nucleic acids, which are subsequently purified from contaminants by the washing buffers and eluted in the final step of the process.  The Pathogen Extraction kit has been optimized for 200 µl of sample from which the DNA or RNA is eluted in 50-100 µl, however there is some flexibility in the protocol. Researchers have the capacity to use a range of sample from 100-400 µl and to increase the concentration of the product by eluting in volumes as low as 50 µl. DNA and RNA can be recovered from initial concentrations as low as 1 copy/µl.
The magnetic beads used in the lysis buffer were developed to bind to DNA as well as RNA of different sizes with high specificity, without the use of Carrier RNA. This eliminates the need for any centrifugation step, filters, requires a minimal amount of collection tubes and can be easily applied to high throughput applications. It does not require any additives such as proteinase K or RNA carrier.
Applications
Extraction of COVID-19 in clinical laboratories for the isolation and recovery of SARS-CoV-2 RNA 
Research of viral and bacterial infection
Quantification via Reverse Transcriptase qPCR (RT-qPCR)
Next Generation Sequencing (NGS)
Genomic DNA library preparation
Copy number variation (CNV) studies
Features
Amenable to high-throughput methods, including automation
Faster and simpler magnetic collection and resuspension steps
Reduces concern for clogging
Eliminates need for Proteinase K treatment of swab samples
Eliminates need for Carrier RNA in all sample types
Eliminates centrifugation steps associated with spin-column based viral extraction kits

  Universal Pathogen DNA / RNA Extraction Kit
The magnetiQ Pathogen Extraction Kit comes with buffers optimized for pathogenic RNA and DNA capture. The functionalised magnetic beads in the lysis buffer were developed to specifically target and bind nucleic acids. All the components are stored at room temperature.
Sample Type

Gram +/- Bacteria, Viral DNA & RNA

Quantity

100 or 250 assays (Other formats available)

Elution Volume

50-100 µL 

DNA Recovered

>99%

Processing Mode

Automated; Manual. 

Compatible with 96-well plates.

Throughput

100-250 samples per run

Binding Technology

Magnetic beads

Binding Capacity

Scalable

Components

(i) Pathogen Lysis/Binding Buffer




(ii) Wash Buffer #1


(iii) Wash Buffer #2


(iiii) Elution Buffer

Storage

Room temperature

  Universal Pathogen DNA / RNA Extraction Kit