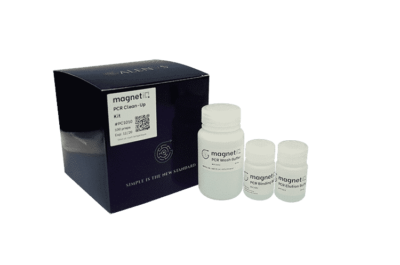 The magnetiQ PCR CleanUp Kit enables a rapid and efficient method of nucleic acid purification following enzymatic reactions such as PCR or other processes such as restriction digests or ligation reactions. Purification of DNA is achieved through magnetic bead-based capture and subsequent elution into clean buffer.
Achieve rapid purification of PCR amplification products in under 10 minutes. Obtain high DNA yield free of salt and protein contamination. Eliminate the need for spin columns and centrifugation with magnetic-based DNA capture and purification. Samples are processed manually in under 10 mins, requiring only the use of a magnetic rack and standard pipettes.

  PCR Clean Up
The magnetiQ PCR Clean Up Kit alleviates the need for centrifugation steps and separate collection tubes – in contrast to standard column-based kits. The magnetiQ PCR Clean Up kit capture efficiency is >98% of DNA in the size range of 100 bps – 10 kbps. The purified sample can be concentrated in volumes as low as 10 μL, compared to column-based kits which often necessitate larger elution volumes. The magnetiQ PCR Clean Up kit performance demonstrates high PCR purification efficacy at various fragment sizes. Sample processing is completed in less than 10 minutes, yielding high purity and efficient recovery of DNA.
Comparison – Qiagen/ThermoFisher/Invitrogen PCR Cleanup Kit 
Applications
Next Generation Sequencing (NGS)
Post-PCR and qPCR gene amplification
Genomic DNA library preparation
Copy number variation (CNV) studies
Features
Amenable to high-throughput methods, including automation
Faster and simpler magnetic collection and resuspension steps
Reduces concern for clogging
Eliminates organic solvent hazardous waste

  PCR Clean Up
Contains optimized buffers for DNA binding, washing and elution developed with Galenvs' functionalised magnetic beads and optimized with machine-learning approaches for protocol development and reagent formulation.
Sample Type

Enzymatic reactions (eg. PCR)

Quantity

100 or 250 assays (Other formats available)

Elution Volume

10 µL or above

DNA Recovered

>98%

Processing Mode

Automated; Manual. 

Compatible with 96-well plates.

Throughput

100-250 samples per run

Binding Technology

Magnetic beads

Binding Capacity

Scalable

Components

(i) Binding Buffer




(ii) Wash Buffer




(iii) Elution Buffer

Storage

Room temperature

  PCR Clean-Up
Quick Start Guide – PCR Clean Up
Tech Spec Sheet – PCR Clean Up
Comparison – Qiagen/ThermoFisher/Invitrogen PCR Clean Up Kit